TurboSTIX™– Tape for Flooring
The Adhesive Tape for Any Flooring Project
Adhesive Tape for Flooring
---
TurboSTIX™ adhesive tape for flooring is odorless, non-toxic, and aggressive. TurboSTIX™ is available in many different sizes and bonds to a variety of materials. TurboSTIX™ adhesive tapes are used for repairs and permanent installations in light weight to heavy duty applications.
Buy TurboSTIX™ Online
---
See Product Documentation
Virtually VOC free, Odorless

Non-Toxic

Aggressive Bond

Immediate access, No cure time

Easy Installation 

Durable light weight reapplicable liner

In house converting which al lows us to supply custom lengths and widths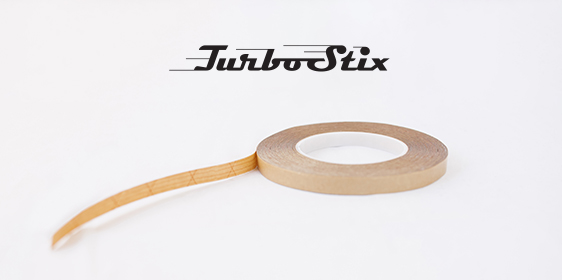 Commercial & Residential Flooring Installation Uses
---
Vinyl transition strips
Treads & risers
Small job-site repairs
Carpet wall base
Vinyl and rubber cove base
Vinyl interior trim and moldings
Permanent Installation of carpet over carpet to save on tear out cost
Warranty
---
TurboSTIX™ Double Sided Multi-Use Adhesive Tape has a limited warranty to be free from manufacturing defects for a period of 90 days from the date of purchase. This warranty does not cover accidental damages, unreasonable or improper use, normal wear and tear, loss of use, or consequential damages. For additional warranty information please contact our office. Call 706-278-2604. Open Mon – Thru 8am – 5pm & Fri 8am – 4pm. EST.
Product Specifications
---
| | |
| --- | --- |
| Adhesive | Solvent-free, Acrylic Dispersion |
| Thickness | 0.23 mm |
| Adhesive Carrier | Polyester Scrim |
| Covering Material | Brown Silicon Paper |
| Peeling Resistance | AFERA 4001 P11 30 N / 25 mm |
| Elongation at Break | DIN 53112 |
| Tear Resistance | DIN 53112 |
| Temperature Range | -30° up to 120° C |
| Condensation Water Resistance | Good |
| Aging Resistance | Very Good |
| Softener Resistance | Very Good |
| Adhesive Characteristics | Aggressive |
Product List
---
ITEM #
DIMENSIONS
CASE QTY
420-5
1" x 164 LF Roll
5 Rolls
420-12
1" x 164 LF Roll
12 Rolls
537
1" 1/2 x 164 LF Roll
8 Rolls
450
2" x 164 LF Roll
6 Rolls
572
3" X 164 LF Roll
4 Rolls
585
3-½ " x 164 LF
Roll
3 Rolls
644
6" x 164 LF Roll
1 Roll
922
9-½ " x 164 LF
Roll
1 Roll
5222
9-½ " x 164 + 1-½
" x 164 LF
1 Roll of each size
6300
12" x 164 LF
Roll
1 Roll