EnviroSTIX Classic ADHESIVE SYSTEM
See Product Documentation
EnviroSTIX Classic
The EnviroSTIX Classic System is the original peel and bond EnviroSTIX™ System. It has been on the market proving as a solution for jobs with time-sensitive, budget-tight, challenging projects for over a decade. EnviroSTIX Classic includes the pre-cured EnviroSTIX™ Adhesive combined with the quick drying ES-P (EnviroSTIX™ Primer).
FEATURES
Pre-mixed, roll-on PH neutralizing primer
Easy peel and bond fast and easy adhesive installation
Cost effective alternative vs. moisture mitigation
Machine-applied adhesive with uniform coverage
High relative humidity protection with aggressive moisture resistant adhesive. Performs on projects up to 96% RH.
The EnviroSTIX Classic System includes the quick drying ES-P (EnviroSTIX™ Primer) combined with the pre-cured EnviroSTIX™ Adhesive.
FLOORING MATERIAL APPLICATIONS:
This system works with most major commercial flooring manufacturer's product lines. EnviroSTIX™ adhesive can be applied to carpet tiles, rubber tiles, VCT, LVT, sheet goods, and much more. (See your sales associate with questions about specific flooring options.)
ES-P (ENVIROSTIX™ PRIMER)
No mixing, 1-part, ready-to-use
Solvent-free, VOC-free, acrylic alkali resistant primer that neutralizes the PH of the substrates surface, binds residual dust, while improving bonding properties
Used to pre-treat the floors prior to the installation of EnviroSTIX™ on porous and non-porous substrate
Quick Dry Time/Same-day Installation: 30-40 minutes per coat (dry time will vary based on the job site conditions and porosity, and humidity will play a major role in dry time)
Shelf Life: 30 days opened container or 6-months unopened container from the factory date stored not below 41° F
Unit Size: 1⁄2 gal, 1 gal, & 5 gal units
---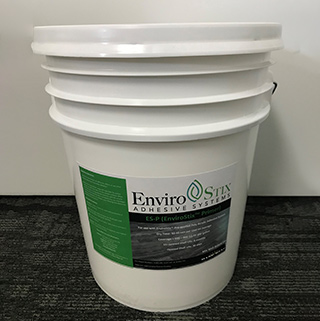 ENVIROSTIX™ ADHESIVE (ES)
EnviroSTIX™ is a pre-cured, moisture resistant, virtually VOC-free, poly-acrylic adhesive. It is machine applied directly to the back of commercial grade flooring materials with a patented process at the Base King facility in Dalton, GA. When the materials arrive to the job site, they can quickly be installed (after acclimation) with an easy peel-and-bond application. EnviroSTIX™ can be installed over existing flooring for ease of remodeling, when existing material is in good condition.
---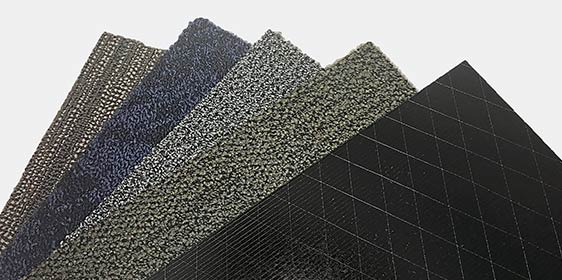 "ENVIROSTIX™ADHESIVE SYSTEMS are some of the most cost effective, high performance flooring products available on the market."
PROJECTS
EnviroSTIX™ is a proven, successful product with millions of square feet installed on projects throughout the US & Canada. Please see our website for a list of projects. EnviroSTIX™ is mostly used in the commercial flooring industry on healthcare, education, government, & retail projects.
WARRANTY
EnviroSTIX Classic has a 10-year limited warranty on properly installed projects.
APPLICATION
See Figure 1.
4. Flooring Materials
3. EnviroSTIX™ Adhesive (Acrylic Dispersion with Integrated polyester scrim)
2. ES-P (EnviroSTIX™ Primer)
1. Substrate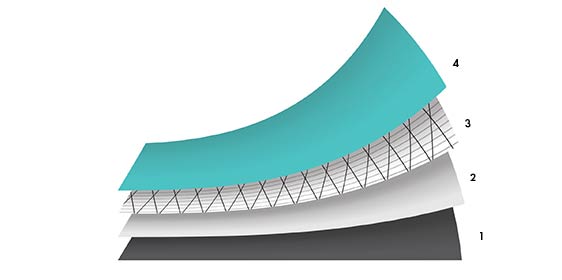 Figure 1. Application layers
INSTALLATION & TECHNICAL SPECIFICATIONS
---

Properties
ES-P (EnviroSTIX™ Primer)
EnviroSTIX™ Adhesive
Base
Solvent-Free, Acrylic
Solvent-Free, Acrylic Dispersion
Form
Fluid
Solid
Color
Light Blue
Clear
Cure Time
30-40 Minutes per Coat
Pre-Cured Immediate Access
Install Temp Range
60° to 75° F (Flooring Manufacturer's recommendations supersede EnviroSTIX Classic recommendations.)
45° to 90° F (Flooring Manufacturer's recommendations supersede EnviroSTIX Classic recommendations.)
VOC Content
0 g/l (Out of 50 g/l Allowable)
0 g/l (Out of 50 g/l Allowable)
Water Solubility
Fully Miscible
Negligible
Surface PH Range
Neutralizes the PH.
7-14 PH — No limit when used in combination with the ES-P.
Sheet Goods & Modular
Attic Stock Shelf Life
6-Months Unopened Container at 70° F or 21° C. or 30 Days Opened Container at 70° F or 21° C.
10-Year Limited Warranty
(Flooring Manufacturer's
recommendations on storage,
temperature, and shelf life supersede
EnviroSTIX Classic recommendations.)
Coverage
300 sf/ 1⁄2 gal, 600 sf/ 1 gal, or 3000 sf/ 5-gal unit. (Spread rate will vary due to job site conditions.)
Full even uniform spread on the backing of the flooring material.
Warranty
10-Year Limited
10-Year Limited
Download EnviroSTIX Classic Brochure